What I Do
I create the visual elements of branding for up-and-coming businesses. A "brand" is everything people think of when they hear your organization's name: your logo, a color, the inside of your building, your customer service, your product, a smell, an emotion, an article they read about you in a magazine. My specialty is designing the visual aspects of your brand: logo, business cards, website, brochures, packaging, social media graphics, and more. Learn more about how that gets done here.
Besides branding for businesses, I'm also a surface designer. I make patterns for fabrics, wallpapers, dishes, and other products. If you're a manufacturer or retailer looking for designs with a crisp, graphic style, I might be a good fit. Learn more here!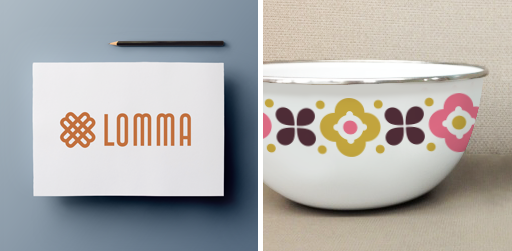 Experience
Graphic design
After graduating with a 4.0 in Design Communication from the University of Minnesota in 1999, I gained experience at a corporate in-house creative department. Several years at a design agency followed, and I started my own design business in 2007.
Since then, I've developed identity systems and marketing materials for a range of organizations, from universities to marketing agencies, non-profits, small businesses and start-ups.
Blogging
For seven years I wrote the blog How About Orange, now archived. A Bloggie web awards finalist for many consecutive years, the site received up to a million page views a month and featured craft and DIY tutorials, free design resources, and home decorating ideas. How About Orange was mentioned on an ABC television show and garnered press in blogs, magazines, and newspapers around the world.
Surface design
The blog put my work on the radar of textile manufacturers, and soon I was hired to design a fabric collection. Since then, wallpaper, ribbon, dishware, handbag, and fabric manufacturers have licensed my designs, and my fabric lines have appeared on bags, apparel, and furniture at Nordstrom, Target, HomeGoods, and the Land of Nod. Take a peek at some of the work here.
I'm fortunate to have a job that I love, and I'm excited to partner with clients who care about good design. If that's you, let's keep in touch!